NOTE: Several weeks ago I did a specific review on the first in this series, Gate of Ivrel. Now that I've finished the additional three books, I wanted to write up a few thoughts concerning the series as a whole.
There are books – even enjoyable books – that you read and put in your Half Price Books box and never think about again. They were fine, in their own way, and as pleasant to meet as an amicable stranger you might share a greeting with at the supermarket.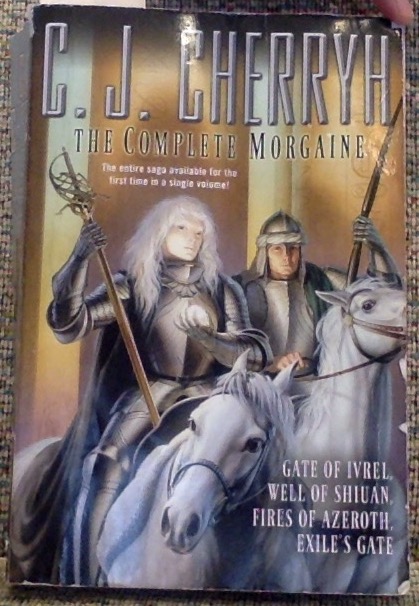 Then their are books that you read and put on your shelf and feel that, somehow, you made friends with that stranger and will carry memories of the meeting long past the time when the cover was closed. You even feel a bit sad that the places and the characters of that book have come to an end.
The Complete Morgaine falls into the second category for me. Through all four books in the series – Gate of Ivrel, Well of Shiuan, Fires of Azeroth, and Exile's Gate – I felt myself drawn to the two principle characters and the four various worlds in which they found themselves. The same overarching plot line begun in Gate of Ivrel was continued on through the other three books, each of which found Morgaine and Vanye adapting to a new world and attempting to destroy its Gate. Through each well crafted world, however, ran the emotional hook of the series: the relationship between Morgaine and Vanye.
These two figures, each in their own way banished to lives of rejection and sorrow, depend more and more on one another and in the end come to share a beautiful commitment and love that – while far from perfect – made the four book journey well worth the trip.
I often tease Kyna that she likes books with great characters where nothing actually happens. The assumption in this harassment is that my preferred reads – science fiction and fantasy – are plot heavy and character light. I would object to this (and I do), but in the Morgaine books I can honestly say that the characters carried me just as much as the action, and that I feel – nerdily, I admit – a sense of loss at the last page.
A few other notes on the series before I wrap them up: Cherryh continues to be my favorite even as she – at times – frustrates me by providing just the barest of information. I honestly had to read a few pages towards the end of Exile's Gate several times to figure out what exactly was happening. As an example of what I mean, think about how we talk to each other in real life: incomplete sentences, phrases that assume unspoken understanding or background information, inside jokes, and statements that only loosely reflect what we're really thinking. Usually, fiction dialogue covers much of this up in order to make things more clear, but I think Cherryh keeps the dialogue just as it would be in real life, which lends it authenticity and – sometimes – confusion.
I was worried about the ending to this series as its general mood did not seem to lend itself to a particularly happy conclusion. Without giving too much away I will say that I was satisfied, but wished that more loose ends had been tied up (and I do like happy endings).
Profanity
2  
Very little, though I will say that Exile's Gate especially seemed to rely heavily on a pseudo-Christian background with lots of exclamations including "heaven" and "God," some innocently, some vainly.
Violence
4  
There is lots of violence here. From swords and arrows to torture to Morgaine's more technological weapons, the body count is high and frequently added to.
Sex/Romantic Themes
3  
There is some kissing and a very little reference to sexuality. Though one act of intimacy is implied, it is so subtle that you could easily miss it.
Miscellaneous